Fremantle Jail Pictorial
It is a public holiday Monday in WA - quite possibly because the Labor Party was re-elected. We are celebrating Labour Day. Not knowing what to do with ourselves I checked the Net for "What's on in Perth" and found a
good site
. We decided to head to Fremantle Jail and I had only heard good things about it. Let me tell you, it was money well spent. The commentary was excellent and some of the stories that were told were amazing. Photos could be taken anywhere and they had another tour for free afterwards. I'll give you one guess who took that one.
Fremantle Jail Entrance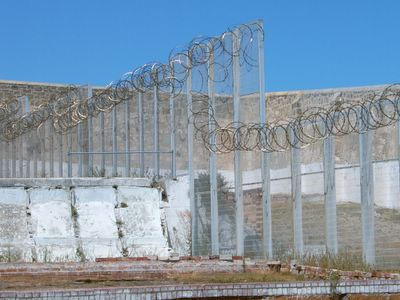 I'll bet that not too many politicians were housed in this jail. There would be no fence-sitters about.
Prison Wardens with guns had to be in the watchtowers. This had nothing to do with Jehovah's Witnesses. Guns were only allowed on a level where there were no prisoners who could overpower guards. At least six of these towers are around the perimeter.
Not a lot of comfort included in your prison stay. The quarters were quite cramped and there was no running water, which, incidentally, was the main reason that the prison was closed.
Artwork on the walls was not allowed until six months before the prison was closed. Some of the material is excellent although this painting has been weathered for 14 years and has lost some of its former glory.
There were up to 600 prisoners held in Fremantle Prison. And they crammed them in. This photo was taken from inside the Church of England Chapel where there are no bars on the windows. And it only shows Divisions 1 and 2.
These drawings were made about 140 years ago when pictures anywhere were forbidden. Prisoners had lime in there cells and could paint the walls at any time. A prisoner called Walsh drew these pictures and then covered them with lime when the wardens were coming. Quite by accident they discovered them. Take the tour to find out how!
The picture from the yard was done by the same artist. Isn't it brilliant? Some talented people were locked up many years ago. I guess it is the same today. Those with a little more talent, not to mention cash, may keep from being locked up.
Here's a cell that dates back to 1850-1860. Not too many comforts here. I guess having a mattress would have been a flea trap.
We did a tour of death row and then the gallows. This is what greeted the people who were executed. There were only 44 in total, including one woman, and death was very quick. A new rope was used for each execution, for religious reasons, and the last supper was only tea and toast. Sounds like my weekend breakfast! Just as long as there is no noose at the end of it.
Not the easiest of places to escape from. Take the tour and you will hear about those that did - and there were some funny stories amongst them.
The wardens had to be able to go to the toilet while keeping an eye on the prisoners. So, this dunny was created and painted two-thirds of the way up so that they could still carry out their duties. Take pity on the female prison wardens.
On A Lighter Note
Bloody tourists! And they're not even drunk. Taken outside the YMCA in Perth after attending Mr Cha Cha's Dance Thingo last night. Not much to do and very difficult to see. There were 250 dancers doing the Mambo in Forrest Place and it would have been alright if we could see - or even take photos.